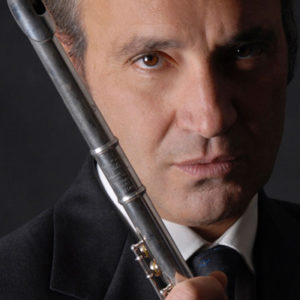 Michele Marasco è uno dei più noti flautisti d'oggi.
Decisivi per la sua formazione gli incontri con il compositore Luciano Berio, con i direttori Harnoncourt e Norrington, con i flautisti Fantini, Klemm, Nicolet.
Solista in sale prestigiose come la Carnegie Hall a New York, la Kioi Hall di Tokyo, la Salle Pleyel a Parigi, il Parco della Musica a Roma, il Teatro alla Scala e la Sala Verdi a Milano, si è esibito per i maggiori festival europei: Wien Modern, Salisburgo, Maggio Musicale Fiorentino, Biennale di Venezia.
Rilevante la sua attività discografica con oltre 15 CD registrati in gran parte dal vivo per Arts, Capstone, Diapason, Falaut, Frame, Nuova Era, Ricordi, Stradivarius.
Diverse le sue prime esecuzioni di musiche di autori contemporanei come Berio, Cavallari, Donatoni, Einaudi, Hoffman, Maresz, Olivero, Sciarrino.
Primo flauto solista dell'Opera di Zurigo, della Radio di Lipsia, di Santa Cecilia a Roma, della Filarmonica della Scala e attualmente nell'Orchestra della Toscana, si dedica attivamente all'insegnamento presso la Scuola di Musica Il Trillo a Firenze, l'Istituto Vecchi-Tonelli a Modena, l'Accademia Italiana del Flauto a Roma, nonchè alla promozione dei giovani musicisti. Molti dei suoi allievi sono docenti nei conservatori e licei musicali italiani, o prime parti nelle migliori orchestre europee.
---
After completing his diploma at the Conservatoire in Florence, he went on to continue his studies in Switzerland under the guide of C.Klemm, A.Nicolet and A.Jaunet.
As principal flute he has collaborated with numerous Orchestras including the "ORT – Orchestra della Toscana", the "Carlo Felice" Opera Orchestra of Genova, the MDR Radio – Symphony Orchestra of Liepzig, the Opera Orchestra of Zurich, the Orchestra of "Teatro alla Scala" in Milan, the "Filarmonica A.Toscanini" in Parma and The "Accademia di Santa Cecilia" in Rome.
His commitments as a soloist and chamber musician have led him to perform in some of the most prestigious venues and Festivals worldwide, such as Carnegie Hall (New York ), St.John's Smith Square (London), Wiener Konzerthaus (Wien), Maggio Musicale Fiorentino, Ravenna Festival and the Contempory Music Festivals of Strasbourg and Salzburg.
As a member of the "Italian Wind Quintet" he has been on tour to Israel, France, Great Britain and the United States.
Perhaps most importantly is his contribution to the contemporary music scene, where he has given many first performances of works by Berio, Sciarrino, Gentile, Hoffman, Stuppner, Tutino, Cavallari, De Pablo, Donatoni, Luporini and Einaudi.
Presently Marasco teaches at the Istituto Musicale of Modena and the "Associazione Muse Eventi Musicali" in Florence and Rome.
He has recorded for the RAI (Italian radio-tv network), BBC, French National Radio and he has made various CD for Ricordi, Frame, Antes, Arts, Capstone, Nuova Era and Diapason.
In 1999, invited by Luciano Berio and Maurizio Pollini, he performed as soloists in the Salzburg Festival, in 2001 at the Carnegie Hall (New York), in 2002 at the Kioi Hall in Tokyo, in 2003 in Roma at the "Parco della Musica", in 2006 in Wien at the Wiener Konzerthaus and in Milano at the Teatro alla Scala, in 2009 at the Teatro Comunale di Bologna and in Paris at the Salle Pleyel.